It's not quite a replicator....but!
Wow, how has it been nearly a full month since that Star Trek Bridge Commander post?! (And probably the last time I turned my gaming PC on too actuall, where did May go?).
Fairly busy one, we're about to have our third bank holiday of the Month (it's nice not working Mondays as well as Fridays). I went to Scotland for the first time properly (for work) and got to catch up with a bestie whilst I was up there. There was an Avril Lavigne concert. I went to Handycon in Milton Keynes, and I'm getting to go to UK Games Expo next weekend, which is mega exiting. It's been around 4 years since I last travelled down to Birmingham. It'll be well fun.
Also managed to pick up a copy of a game I played last week at Handycon which is all about distilling spirits, its great. Very thematic. Lots of mechanics that I love too, all in one nice package. And it fits on the table quite well.
I just need to get hold of a playmat from UKGE next week for it. And another mat for the gentleman I purchased this extra KS copy from, and a mat for another one of my besties. All the mats.
I really hope they have a lot in, else I'm going to have to order some from the US and that'll be a pain.
Of course not as much of a pain as ordering two Marvel shirts because licensing didn't extend to the UK, only for the licensing to be extended to the UK the day after they shipped. That stung a bit, but we live and learn don't we?
Anyway. Back to the subject at hand.
The future.
When I was at school, way back in the late 1900s (1992 is the year I'm talking about specifically), I went to a fancy technology college, there were computer suites a plenty, there was a CAD/CAM suite and for its time, it was probably one of the most advanced facilities in existence. I owe it so much.
Most of the CAD/CAM stuff at the time was basically wooden cutting machines, the software I think was written a lot either in house or certainly by a local company. I remember the 286 machines running Windows 3.11, but I'm pretty sure the software ran in DoS, maybe….it was grey and there was a grid.
It was 2D design, you could make a sign. You could maybe set the cutting depth, but it certainly wasn't anything like today.
There were also things like Vacuum forming machines where you'd made a wooden contraption, heat up a big sheet of wobbly plastic, pull a giant lever and suck out all the air and you were left with a fabricated plastic shape based on the wooden thing you'd made. And the corners and gradients had to be perfect or else the vacuum couldn't get in all the nooks and crannies.
Anyway..
It's 2023, and I have a 3D printer in my MattCave.
Not just any 3D printer, a Prusa, and its printed me an entire 3D printed table (which I took to HandyCon with me, it went down a storm), and I'm currently printing some board game inserts for Space Base - one of my favourite games.
So, we've got the CAM side of it down, quite easy to take something that someone else has designed, run it through a few custom settings for your machine and then print. It's the CAD side of it that I've always struggled with.
I think I'm going to find a course to do, I don't expect I'll be a 3D artist any time soon, but being able to put together some functional models and engineering projects and transfer some real life stuff to a digital platform would be pretty snazzy.
So yeah - random thoughts from me this week. Wanted to get it out of my head. I've got a Computer Aided Design studio in my house. And if I had the space it'd be fairly easy to extend this to other things (resin printers and what not).
Photo for context. Apologies for the mess. It's not as bad as it looks. Honest.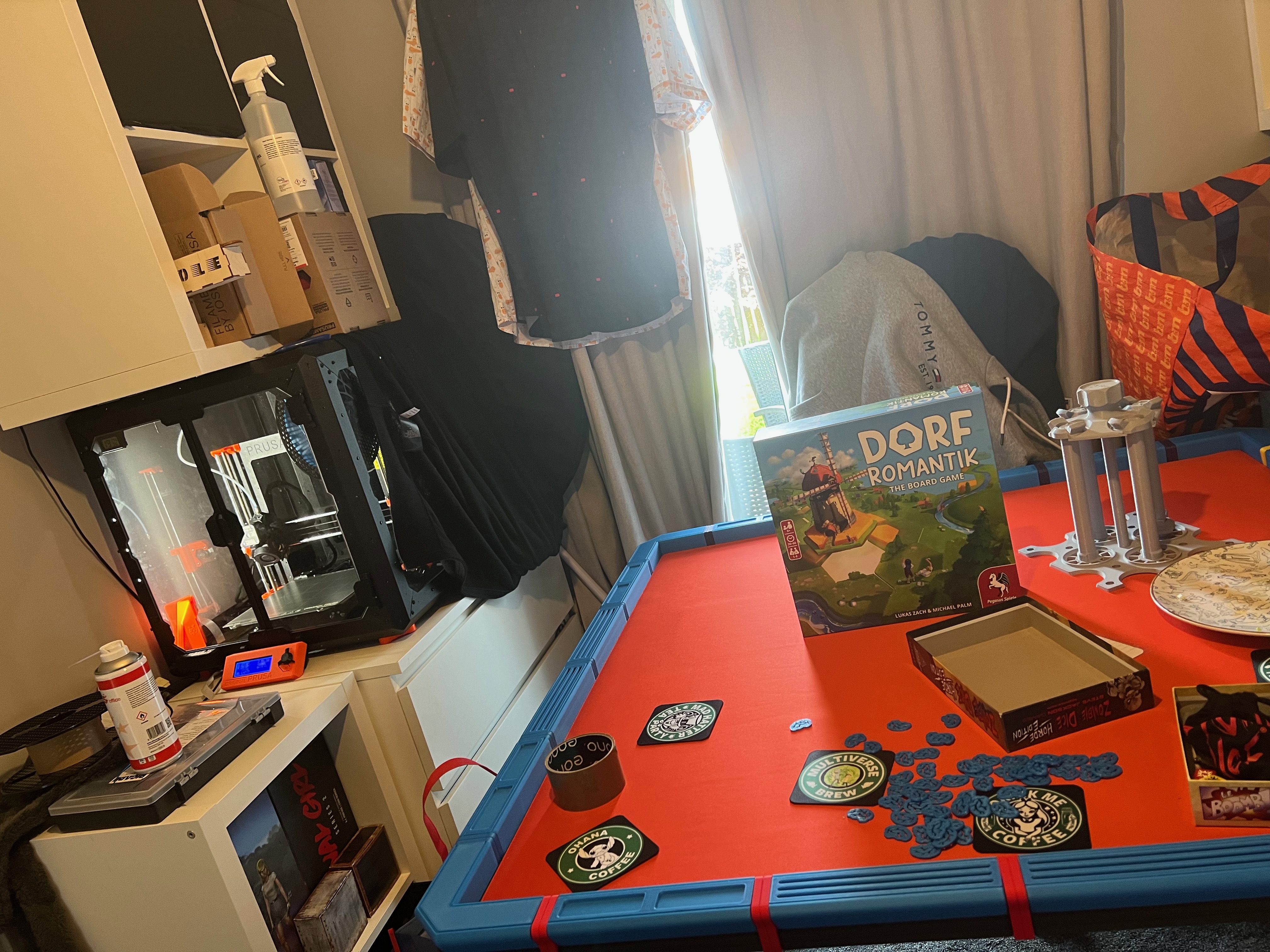 comments powered by

Disqus
Share on: